Anonymous Nude Modeling Photo Shoot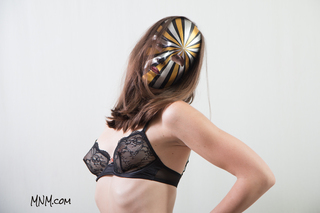 Here is Ms. Unknown a new girl who modeled for me in a nude masquerade themed photo shoot. I videoed and photographed her modeling naked for the first time. The primary purpose of wearing the mask was to conceal her identity because she didn't want to be known. To avoid having any problems with her current enrolment in college and any future career endeavors she just didn't want to be recognized modeling nude. Although she likes modeling and being naked, the nudity wasn't an issue for her apparently being identified was.
This photo shoot was a full nude shoot which started out with just a black thong on and then gradually went fully naked. The images all look fantastic I took some shots of Ms. Unknown focusing away from her face, and the poses look great. The out of face focus made her lower body look close and her upper body further which was a neat effect.
Here are some sample pictures of what the photo shoot was all about: About the Author
Loves taking pictures of various women, in various poses, using various equipment, in various locations, so various people can can enjoy his work.