Holly Summers Working Out Naked MNM Best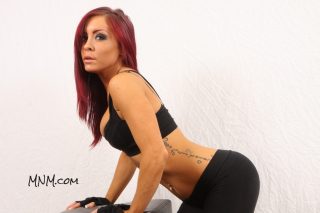 Holly Summers working out naked, and  let me tell you she has never done this before in front of the camera. The shoot turned out excellent, and Holly had no trouble at all working out naked.
All models have some kind of fitness regiment in their daily schedule, so they stay fit and maintain a made to model figure. But have you ever wanted to see a model work out nude?
Well, here you go this photo shoot is the real deal an all nude exclusive work out. In this shoot, you'll get to see a famous nude glamour model pose in fitness attire and then do her work out naked!
Holly starts off working out with black leggings and her weights! Eventually, she takes off the workout clothing and begins to work out naked. Holly uses a long rubber band to stretch off her well-built body while bending and flexing completely nude. She does fine back poses spreading and flexing off her firm booty and legs and upper body.
Each image I captured is a one of a kind shot of Holly Summers never seen before working out naked!
This was a marvelous nude fitness photo shoot I would say. The whole session was very satisfying and fun because the model never modeled nude while working out. This nude work out session was an unpredicted result from Holly that surprised me with outstanding nude fitness results!
Here is a taste of what Holly did in her all exclusive nude work out: About the Author
Loves taking pictures of various women, in various poses, using various equipment, in various locations, so various people can can enjoy his work.