MNM Best A Past America's Next Top Model Auditionee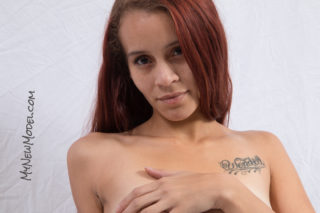 This is Jasmine she has never modeled before this is her first time, but she has tried to model by applying to America's Next Top Model auditions seeking local co eds. Like all of my models, she responded to my casting call. I photographed Jasmine's photo shoot on October 29, 2015.
Jasmine wears a silver and black shiny club dress with cute beige pumps that made her look tall! By the way, Jasmine was an exotic dancer at the time of this photo session. She incorporates a lot of nice moves in with the modeling posing that she does.
Jasmine models clothed first then after awhile of instructions she takes off the dress and poses in a black G-string topless. Shortly afterwards she poses completely nude! Jasmine's flexibility is marvelous.
Photographing a beginner model who at the time was an exotic dancer was exciting for me. I actually gave Jasmine lessons and instructions on how to pose. Shortly after I showed her some posing examples, she started to catch on very quick.
I photographed this nude shoot with my Canon 70 D coupled with my Canon Super Sonic  17-55 mm lens that is 77mm wide. It does an excellent job for model photography I think.
Here are some of Jasmine's images that she did:
--- About the Author
Loves taking pictures of various women, in various poses, using various equipment, in various locations, so various people can can enjoy his work.