MNM Best Nude Model Debut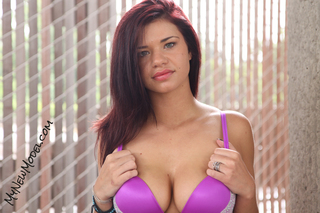 Dahlia is a nude model who only had a few other modeling experiences prior to working with me. At the time of these four photo shoots, she was 21 years old, and she modeled for me several different times after this release for various photo shoots throughout the 2013 year. In this photo shoot, there are four photo sets of Dahlia ranging from fashion, bikini, lingerie and nude styles.
Dahlia modeled in her first photo set on location and she wore a black dress with high heels. Shortly after her first outfit, she changed into a pair of daisy dukes and bikini. She then modeled in another area that I found which was more secluded and private. Towards the end of the photo shoot, she modeled topless!
Dahlia is a naturally busty girl, and a buxom beauty she had never posed topless prior to this photo shoot. This was Dahlia's first time modeling topless, and she did a marvelous job at it. To have a beginner model posing topless outdoors in a private area that was so close to the public, was terrific. Dahlia didn't even flinch or show any nervousness while modeling topless.
In her second set which is her third Dahlia modeled again on location near a boat marina and the Allegheny River. This place I found by scouting, and it is an excellent spot to photograph my models clothed and nude. The area looks like a public spot, but its actually concealed and sort of private.
Dahlia modeled in a white see-through halter top with daisy dukes she also did a little taste of some topless thong modeling. After the outdoor stuff, I photographed her inside my studio, and she modeled topless with a light blue lace thong.
In the third set which is Dahlia's fourth shoot, she did a little fetish modeling nothing serious. Everything in the fourth shoot turned out super!
Dahlia was a thrill to work with, and she is a one of a kind model. As far as I know, I haven't found many models with her great physique and capability of modeling in so many styles. She was a magnificent model and such a pleasure to photograph.
Here are some shots of what Dahlia modeled: About the Author
Loves taking pictures of various women, in various poses, using various equipment, in various locations, so various people can can enjoy his work.