Savannah Potocnik Blonde Bombshell Part Two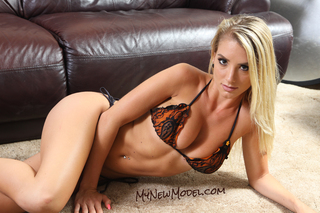 This is part three of Savannah's first modeling photo shoot that she did back in 2015. As I mentioned in her first photo set, she is a very experienced Pittsburgh model. She has an excellent body and also very good looking one of a kind model. In this photo set Savannah models in the studio in  a thong bikini on the couch!
Savannah modeled very well, and I think she enjoyed the third photo set a lot! I took a lot of different angles of her on the couch and carpeted floor. The HD video and the pictures are fantastic.
Like I explained earlier I had a fun time to work with Savannah on these three photo shoots. Savannah modeled marvelously, and she did every pose with extra care. It's a thrill to work with her because she knows what to do and she poses perfectly! Savannah's body and curves are all well put together.
The in-studio shots I took were with studio flash fill light, and I used some reflectors to assist me.There are no edits in any of my work by the way. #Big Boobs
,
#bikini
,
#blonde
,
#body piercing
,
#brown eyes
,
#canon 50D
,
#long blonde hair
,
#non nude
,
#pumps
,
#stilettos
,
#studio photo shoot