Tifnelynn Fashion Nude Modeling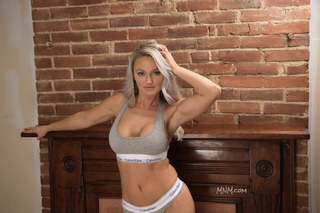 Tifnelynn fashion nude modeling studio photo shoot features some current fashion styles, and nude modeling poses from the seasoned Tifnelynn. Tif is an experienced model who specializes in fashion, glamour, nude, and boudoir; she also does lifestyle and portrait modeling. In this photo session, Tifnelynn does a debut session modeling topless and naked posing in front of a fireplace with exposed brick.
The dark brown wood and reddish brick colors all went marvelously together with Tifnelynn's skin colors and her blonde-gray colored hair. Everything turned out so good that I hurried up to post this photo shoot. I think you'll like the turnout very much.