Hotel Photo Shoot With Bella MNM Best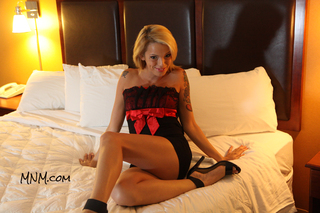 Here is a Hotel photo shoot with Bella, I flew her into Pittsburgh on June 28, 2014, for a second photo shoot. I liked Bella's modeling style when I worked with her back in 2012, and that was the main reason besides other things that I booked her again.
Bella modeled in the hotel room she was staying at. Her photo shoot was a boudoir setting the low lit lighting made everything boudoir related. The styles of modeling Bella did were clothed, lingerie and finally nude. She used the bed as the main prop. I had no problems with the lighting or anything else that she did.
Bella's images and HD video are fantastic. I captured a lot of quality pics and super looking poses in the photo.
The photo shoot turned out amazing, and I was delighted with the outcome of the shoot. The hotel room was very cozy and gave an excellent creamy look to everything.
In this shoot, I have used my Canon 50 D camera with kit lens. I used an external flash strobe and the lighting in the room. The bed lights gave a nice glow in the background of the bed.
Here are some images of what Bella started out within her photo shoot: