Modeling On Location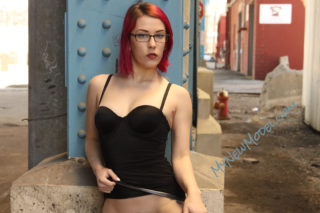 Anastassia Bear, an experienced model and she, has many tattoos. She is an alternative model, burlesque dancer, and a Marlboro girl. Anastassia traveled to Pittsburgh in April of 2014. She got in touch with me through model mayhem inquiring about my casting call. I booked her for a nude photo shoot, and when we did the shoot I photographed her on location in Downtown Pittsburgh naked!
Anastassia did marvelously, and she was thrilled and excited to be walking around in Pittsburgh modeling everywhere. She enjoyed posing nude when no one was looking in select areas I spotted out for her.
The nude images and video I took of Anastassia modeling on location are fantastic. I was able to photograph her in public places in the Strip District where usually people would be walking. For some odd reason, and to my benefit, there was no one around when I was photographing Anastassia nude.
The entire photo shoot with Anastassia Bear was fun. I photographed her all over the place at the end of the shoot I even photographed her nude in my vehicle under a bridge.
This shoot was all natural light with my expo disc. I set my camera to custom white balance and used the natural sun light. About the Author
Loves taking pictures of various women, in various poses, using various equipment, in various locations, so various people can can enjoy his work.