Photographer Models Topless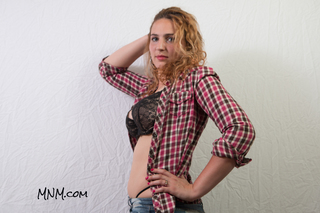 Lizz is a model and a photographer. How I ended up finding her was from my online modeling gigs page  seeking lingerie and nude models. I photographed her back on 5/4/2016 two years ago! Lizz told me, "I like modeling because it's fun, enjoyable, and the pay is cash."
This photo shoot started out with Lizz wearing a flannel shirt, jeans, and a black lace bra. After a while of posing clothed, she undressed and modeled her G- String. Eventually, the shoot went topless. This was Lizz B's first ever semi nude modeling shoot and she did exceptionally well I might add in.
Lizz is a naturally curvy busty girl who poses very good especially when she did all of her G- String and topless sets. In her second episode, Lizz modeled a naughty maid outfit which looked super on her when she did the bending over poses. The short maid skirt took its part very well, and Lizz B's apple bottom also did its positioning with the mini skirt.
Lizz's pictures turned out very good especially the maid outfit, and the G-String images also look fantastic.
The photo shoot of Lizz was thrilling because I was photographing an amateur photographer who enjoys modeling as much as taking pictures like me.
Here are some shots of what Lizz modeled in her first photo shoot for me: About the Author
Loves taking pictures of various women, in various poses, using various equipment, in various locations, so various people can can enjoy his work.