Artistic Nude Fashion Photo Shoot MNM Best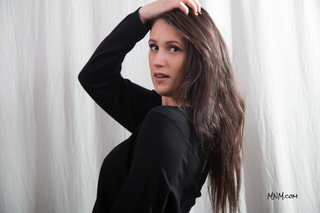 Leah is an experienced freelance model that models on the side sometimes. I got in touch with her this January through my model casting call. Leah modeled in an artistic nude fashion photo shoot in my studio.
Leah's photo session turned out fantastic. She started out wearing some jeans and a black sweater. Towards the end of the photo shoot, Leah models fully nude with a creative white see-through curtain that reveals the outline of her figure just enough.
This was a fun photo shoot because I didn't have much to do other than photograph the model. I used my Canon 70D camera with custom white balance setting. I had a lot of excellent shots turn out of Leah's photo session.
Here are a couple pictures of what Leah started out with: About the Author
Loves taking pictures of various women, in various poses, using various equipment, in various locations, so various people can can enjoy his work.