Cameron Models Daisy Dukes Around The City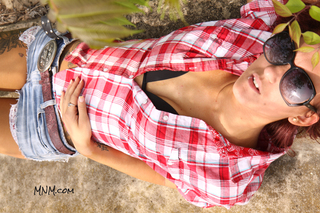 Cameron models Daisy Dukes in this photo shoot. A little bit about her She is a 25-year-old and a tall, pretty tattooed red head with prior modeling experience. She likes to model in a bikini, lingerie, and fashion.
I took this photo shoot in the Southside of Pittsburgh, and I found the location while I was out and about one day. All of the green settings made an excellent backdrop. Cameron's photo session started out with her wearing short daisy dukes, and after awhile she modeled in black lingerie. Everything turned out marvelously and looked superb.
I photographed some images in a green bush overlooking the river, and the city's skyline. A pickup truck was used for the second part of the photo shoot. The pick up truck added a little bit of country style in with the daisy dukes.
I took this photo shoot with my old Canon 50 D camera, and you'll probably notice a difference from my newer work I have posted.
Here is a sample of the photo shoot: About the Author
Loves taking pictures of various women, in various poses, using various equipment, in various locations, so various people can can enjoy his work.