Photo Shoot With Danielle Modeling Nude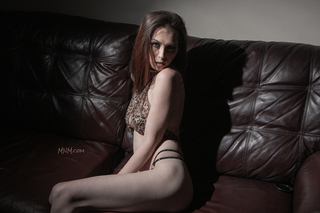 I finally got around to posting another great shoot with Danielle. I hope you like her second shoot as much as her first. This one has a little more glamour nude shots.  As you know, if you frequent my site, I posted her first masterpiece last year. Its been a while to getting around to publish her second nude shoot. This sequel is also a masterpiece collection and an exclusive collection. The theme I choose for the type of outfit Danielle wore was a low lit spotlight effect. The spotlight produced high-end dramatic results of Danielle. The combination of her good looks and the lighting blended well together.
Modeling nude in spotlight
For the prop, I used a brown leather couch, and the outfit Danielle wore was a leopard print lingerie set. For my spotlight effect, I used my speed light with rogue 3- in- 1 flash grid modifier. The grid is perfect for narrowing the flash to a specific area, especially when you have a pretty model to spotlight.
Danielle posed exceptional, just like she did in her first shoot. The setting was beautiful and the dramatic lighting made her look super sexy.
Danielle's implied and nude images are a sight for a sore set of eyes. Let me tell you the photos are excellent and also the HD video too.The fun part of the shoot was taking the sofa shots of her implied and naked. Any glamour model connoisseur would appreciate this model shoot.
Here is a sample of Danielle in her lingerie outfit, doesn't she look fabulous? There is a total of seventy-eight images in her set.
See More Premium Content….
MNM's Best are my top model photo shoots that include never seen before pictures and videos of the best photo shoots. All of the MNM Best content is included for paid members, upgrade now for never seen before pictures and videos of my photo shoots.