Ellen Modeling Glamour Fashions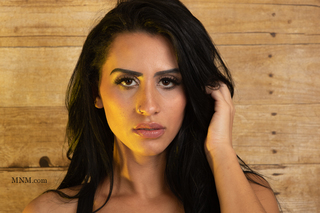 Ellen modeling glamour fashions with a rustic look is a brand new photo collection that is awesome! A little bit about Ellen, she is a gorgeous up and coming fashion model, who has an excellent build and magnificent look. She also has experience as a top model who modeled with bikini fashion. This rustic setting Ellen starts with wearing a nice pair of jeans and a Calvin  Klein sports bra. She looks fabulous in front of the crude-looking barn background that I picked.
That's not all. Ellen looks way hotter when she is wearing the matching thong with the bra. To add in more heat, I used a yellow gel color effect, which added in a warm and sexy mood. The gel made the setting feel as if natural sunlight peeked through a barn loft door and hit her tan skin.
Ellen modeling glamour fashions
All of the images are great, and I got a super hot shoot with Ellen! The last outfit of the shoot Ellen wore was a black thong bikini decorated with a silver chain. The bikini is sexy!  I shot it in front of a black foam background. There are a total of fifty-eight images and a beautiful HD video of the shoot.
Here is a sample of Ellen's shoot: