Fashion Photo Shoot Outdoors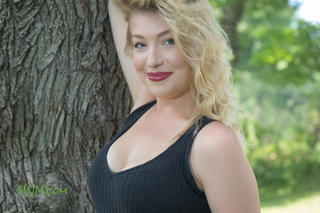 Here's a fashion photo shoot outdoors that Sophie did back in June of 2017. Sophie was a college student at the time of this photo shoot. What was nice about working with Sophie was she resided walking distance to my studio.
I photographed Sophie in the park nearby my studio. She wore a black dress, a bikini with daisy dukes for the photo shoot. After the shorts, she posed in the bikini at a lovely location that had a scenic pond full of bright green aquatic foliage that I like to use as my backdrop in the summer.
Sophie modeled very well and posed with perfection after I showed her poses.  The daisy dukes and bikini pictures are fabulous and a thrill to see. For this photo shoot, I used my Canon 70 D camera with a Canon EFS 17-55 mm lens that goes down to a 2.8 aperture. I set my white balance to custom. How I adjusted my white balance was with the Expo Disc. Let me tell you that it does superb color and exposure balance.
Here are a few pictures of Sophie's shoot: About the Author
Loves taking pictures of various women, in various poses, using various equipment, in various locations, so various people can can enjoy his work.