Flaunting Fishnet Stockings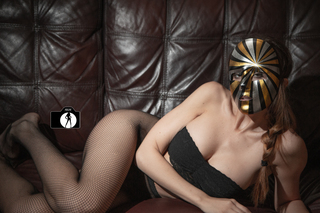 Have you been wondering about Shawna Lee? Well, here's another sensational shoot with her back in 2017. I let this set mature like fine wine! For the shoot, Shawna wears a masquerade mask, black fishnet stockings, and a black halter top. The outfit, masquerade mask, and Shawna blends well together splendid. There are a lot of custom poses in Shawna's third set. As you may know from her previous collections, she is an artistic nude model but and talented with nude glamour modeling.
Nude in fishnet stockings
A little bit about the shoot, Shawna poses fully nude wearing only the see-through fishnet stockings on the sofa. After a while, she removes the mask and halter top and continues to pose in unadulterated positions that reveal her full nude glamour capability.
The mask images are neat, and the nude photos with HD video of Shawna Lee are a fabulous combined modeling collection. For the set, I used an external flash head to create a spotlight on the sofa to make a low lit dramatic effect.
Shawna Lee is fun
I had a fun time shooting Shawna Lee and enjoyed every second until it was all over. Everything worked out okay, and I had minimal coaching downtime that is a plus for me. There is nothing like downtime situations with models and having to show them how to pose. Shawna knows what to do, and that makes it fun and thrilling.
Here is an image from the shoot:
See More Premium Content….
MNM's Best are my top model photo shoots that include never seen before pictures and videos of the best photo shoots. All of the MNM Best content is included for paid members, upgrade now for never seen before pictures and videos of my photo shoots.