MNM Best Her First Nude Tattooed Pin-Up Photo Shoot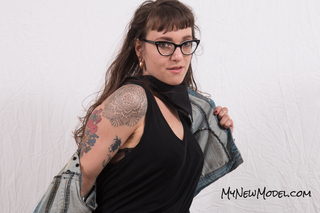 This Jovey she has done some modeling before my photo shoot she became interested in modeling because it would make her feel better and she can make extra money modeling. This photo shoot consists of Jovey modeling lingerie and nude also some outdoor model photography.
Jovey has a lot of tattoos and wears eyeglasses she modeled quite well in this photo shoot, and she did her poses very well in each photograph. The HD video also has a lot of excellent shots also!
Jovey's photo shoot was straightforward because she was not ashamed to model nude and pose in various positions, so that made the session go smoothly and quickly. Her outdoor sets were short but very good and bright although she did not model nude outdoors I was able to take some quality implied photographs and HD video of Jovey posing outdoors.
Here are a couple images of what Jovey modeled: