MNM Best G – String Bikini Extravaganza Overlooking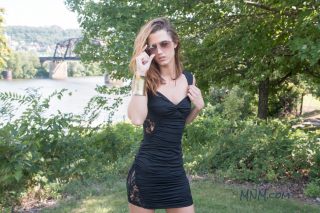 Here is the second photo set from Jenna's first debut back in August of 2015. In this photo set, she wears a black dress and then models in a G-String one-piece bikini. This photo shoot took place on location in a scenic area I found that overlooked the City. It also gave me an excellent hiding spot from the public. Jenna was able to pose wearing the very risqué outfit and pose freely because no one could see her modeling.
Jenna modeled on a jogging trail, and on a section of green grass surrounded by a lot of green plants.
The G- String bikini pictures are super especially the grass shots I took. Jenna posed marvelously and loosened up in the second set of photos. I got a lot of quality stuff that I don't think she ever did. This photo set is a 100 percent exclusive one-time photo shoot from Jenna.
The shoot was enjoyable and turned out quality stuff at the end I think it was the best set out of Jenna's  three photo shoots that I took. I have a third photo shoot from Jenna by the way which will eventually get posted.
Here are some pictures of what Jenna modeled: About the Author
Loves taking pictures of various women, in various poses, using various equipment, in various locations, so various people can can enjoy his work.