MNM Best Lingerie Photo Shoot On Location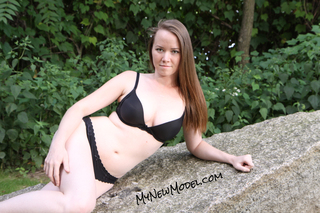 This is Viola an Alabama native who was studying in Pittsburgh at the time of this photo shoot. Viola never modeled before, and this was her first photo shoot and last as far as I know of. Viola is became interested in modeling because it was something she never tried before and a few of her friends had tried it out, so she was curious about it and decided to give it a try.
The modeling styles Viola was able to do were a bikini, clothed, lingerie. Nude modeling was an up in the air thing for her. The photo session takes place on location in a scenic outdoor location in Pittsburgh. Viola, modeled in a gray tight club dress, I'd say it was very fitting and was an excellent choice for her to use in this shoot. It was a hot August afternoon, and a lot of clothing just would not have been comfortable to pose in.
All of Viola's images are marvelous, and she posed exceptionally well! I showed her professional model poses, and she did every pose correctly. After the dress, she wore a lacy black thong with bra an black high heels. In the area I photographer her it was a scenic area with a lovely view of the river below.
This photo shoot was a lot of fun, and it was a thrill to have worked with a model like Viola on location she knew what to do for this photo shoot. You don't know what to expect from a beginner model  especially when they never modeled before with minimal clothing.
Here are a couple pictures of Vola's photo shoot: