Model In Park Poses In Shorts And Bikini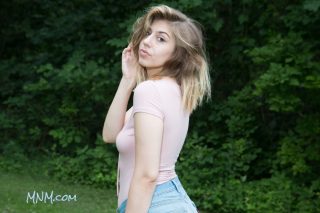 Katiee is nineteen years old and a part-time model who attends college. My photo shoot was not her first by the way. Katiee and I discussed setting up a photo shoot through Instagram I happened to photograph one of her friends who also models part-time and is a college girl.
I did the photo shoot on location in Schenley Park area of Pittsburgh. Katiee modeled in several outfits which were a bikini, bodysuit, and jean shorts. The bodysuit set was the best I think!
I also photographed Katiee in a burgundy top with tight black pants which made her apple bottom figure look fantastic!
The bikini images were at the end of the shoot near an area that had a lot of swampy greens plants growing by a pond surrounding the park area. I used it as last final backdrop. I got some beautiful pictures and video of that part of the shoot.
I used some fill flash since it was an overcast and a cloudy day. The shoot started out good, but I think Katiee had a lot on her mind…
Here are some images of what Katiee wore: #apple bottom
,
#big butt
,
#bikini
,
#bikini model
,
#body suit
,
#brown eyes
,
#Canon 70D
,
#college girl
,
#daisy dukes
,
#dirty blonde
,
#Katiee
,
#non nude
,
#on location
,
#shorts
,
#thick girl
,
#thong
About the Author
Loves taking pictures of various women, in various poses, using various equipment, in various locations, so various people can can enjoy his work.