Ensuing G String Bikini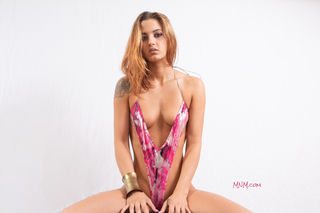 Here is another ensuing g string bikini shoot from Jenna! This time she models in my studio for a third and final session doing some all exclusive glamour modeling never seen before. This excellent masterpiece image collection contains sixty-eight images with some HD video. The photos are all hot, and the g string she modeled looks fantastic against the white backdrop prop. The bikini has some purple, a tint of gray, and black blended in it, making Jenna look super. This shoot is Jenna's third set from August 2015.
Jenna models another G String bikini
The g- string bikini escapade session starts in my studio with Jenna doing standing full-body poses. Jenna did excellently though for a beginner model, who never posed off her body in all sorts of tasteful poses. This shoot modeling incorporated a little of fashion and glamour modeling with some fabulous backside posing. You could say that it was close to being nude for Jenna, but it wasn't.
Astonishing image results 
Keep in mind that this is an all exclusive model photo collection. You have never seen this model pose like this before. I would say that the style is a unique one of a kind glamour creation. All of the shots are jaw-dropping eye-openers, and I highly stand behind it.
Here is a sample picture from the photo set: