Holly Models Red Lingerie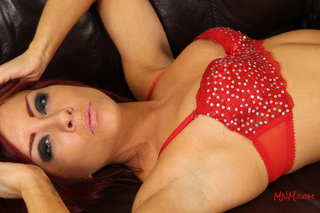 For her fourth nude shoot, Holly Summers models Victoria's Secret lingerie. It's red and looks super. Of course, the set is another fabulous turnout from Holly. This session is an exclusive masterpiece collection, never seen before. It starts with Holly wearing a red thong and bra. After her outfit, she posers nude on a brown leather sofa.
Holly models magnificently
All of Holly's images are fantastic, and her Victoria's Secret lingerie, combined with her skills, made everything a masterpiece of a collection. I distinguish Holly, among other models that I have photographed. Holly looks marvelous, especially when she poses nude. The red thong and sparkles on the bra blended with the brown sofa and Holly's tan skin entirely. It's a matching colorful glamour nude extravaganza.
What I used to photograph Holly
For Holly's fourth exclusive image results, I was still snapping away with my old Canon 50D camera. To tell you the truth back in 2014, it suited me very well. I retired my 50 D in March of 2015.
Here are samples of Holly on the sofa:
See More Premium Content….
MNM's Best are my top model photo shoots that include never seen before pictures and videos of the best photo shoots. All of the MNM Best content is included for paid members, upgrade now for never seen before pictures and videos of my photo shoots.