Maggie Photographs And Models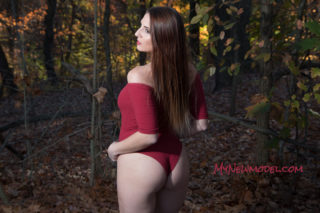 Maggie Photographs and models she is a photographer who originally got into photographing models first. Shortly after her stardom in photography, Maggie ended up being an aspiring model herself on the other side of the camera.
Maggie photographs and models
What do you think about a model who takes photos and also models herself as Maggie does? Isn't that marvelous being able to model and also having experience taking pictures of other models?  Maggie is from the West Virginia area she travels for modeling shoots an photo shoots.  You can see more of Maggie's modeling portfolios on Instagram.
I took the first photo collections of Maggie's shoot in my studio. The last photo set I photographed outdoors on location in a select area that had brown leaves. Maggie wore a red bodysuit that was hot. It was mid-November, so the outdoor autumn colors made stunning pictures. #brown eyes
,
#brown hair
,
#busty model
,
#Canon 70D
,
#expo disc
,
#glamour modeling
,
#high heel boots
,
#Lingerie Models
,
#long brown hair
,
#Maggie
,
#model in leaves
,
#modeling
,
#natural boobs
,
#on location
,
#outdoor photo shoot
,
#photographer
,
#red body suit
,
#red dress
,
#red lipstick
,
#sheer white backdrop
,
#tattooed model
,
#tattoos
,
#thong
About the Author
Loves taking pictures of various women, in various poses, using various equipment, in various locations, so various people can can enjoy his work.