MNM Best Dancer Turned Model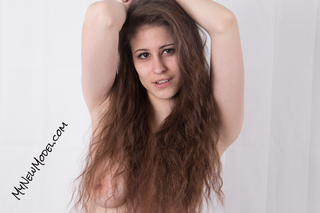 Kat has been modeling for 4 to 5 years steadily, and she does it full time. She was initially a dancer and became interested in being a model through dancing and being an actress in a musical stage play.
Kat started her photo shoot out wearing a black dress and then slowly undressing until she was modeling topless and with a thong. After a while of creative posing, she modeled fully nude in various art and glamour naked positions. She is really good with all sorts of poses, and she positioned her beautiful physique very well!
Kat is a naturally busty girl who maintains her attractive body excellently. She poses in a pose excellent and doesn't need many directions. I did have a pleasant and enjoyable experience photographing her, and I thought that her photo shoot went very good and turned out exclusive high-quality nude modeling image results.
The best and fun part about working with Kat was that she wasn't bashful when it came for her to pose nude! Some models tend to be awkward when it comes time for them to be naked during a photo shoot. With Kat, there was no issue at all! I even showed her a bunch of nude poses that I wanted to capture of her while she was modeling for her nude photo set.
Here are some images of what Kat did: About the Author
Loves taking pictures of various women, in various poses, using various equipment, in various locations, so various people can can enjoy his work.