MNM Best Kait's Third Studio Photo Shoot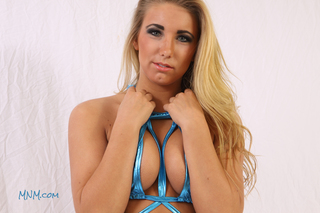 Here is Kait's third studio photo shoot in this set she models in a bright shiny aqua blue G- String Bikini. Kait looks fantastic at this stage of her first photo shoot she had caught more and knew what to do as far as posing goes! The bright aqua blue colored bikini and her tan skin made a perfect match.
In Kait's third photo shoot, you will notice an increase in relaxed posing and her positions.  She looks terrific, and everything she did went marvelously! Since she caught on more and modeled like a pro, this photo shoot is a masterpiece!
Here is an image of what Kait modeled in for her third photo shoot: