MNM Best Topless Masquerade Model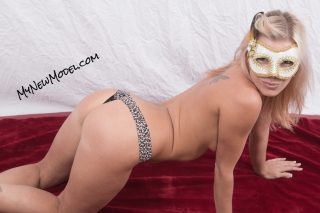 Autumn is a model I photographed in December of 2015, and she modeled sort of risqué in this photo shoot. The theme was topless and thong modeling not fully nude. I have to tell you that it was tasteful, and a well-done photo shoot. Autumn modeled with a masquerade mask which she chose to conceal her identity with. It sort of made her unknown id say and added to the suspense of who is this beautiful model sort of thing.
Autumn has some freelance modeling experience but nothing involving topless or nude. For whatever the reason was she became interested in my modeling gig and didn't mind posing semi-nude for the photo shoot. Everything was set up in advance and discussed prior to her modeling, so I guess she liked what I told her in the pre-photo shoot discussions we had.
Autumn wore several outfits, and they all looked good on her especially the last lingerie outfit. She modeled it without the mask on her face, and she posed on my  brown leather couch. All of the photo sets came out very well, and Autumn showed great enthusiasm with everything she did.
Here are some pictures of what she modeled in: #Autumn
,
#blonde
,
#green eyes
,
#implied topless
,
#lingerie
,
#masquerade
,
#small boobs
,
#tattooed model
,
#tattoos
,
#thongs
,
#topless models