Photographing Beautiful Images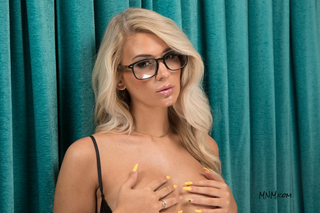 Photographing beautiful images can take some skill to produce, but having a model like Molly Dean makes it smooth. I shot beautiful portrait photos with the lovely Molly in a creative session that produced stunning portrait innovations. Molly was such a thrill and a pleasure for me to photograph. I had so much fun in this photo session. To get the opportunity to book such a gorgeous model sometimes can be challenging.
Photographing beautiful images
Have you been searching online looking for gorgeous model image collections? I'm talking about pure art, not something that is skanky! Molly's shoot is a photo array you can enjoy and appreciate forever! Whether you're a photographer or model enthusiast, this session is worthwhile to view and download.
More about Molly
If you're not familiar with Molly, she is an up and coming glamour model based out of Maryland. I would rate Molly as a top model and in the category of pure superbness. Molly has fantastic modeling skills, and she is marvelous to photograph. I didn't have to show Molly any poses at all she knew what to do. Being able to take photos without delay quickly is a big plus for me. This shoot went smooth and too fast for me. I wish it could have taken a little longer.
The set up of the shoot
For this hot glamour masterpiece, I used the hotel room where my model Molly stayed at for the night. The hotel suite was a marvelous looking room full of different colors. The room even had a beautiful dark green cover drape, which I used as my first background. I picked the hotel out because I wanted to capture a fabulous modern high key and low key photo shoot. This hotel had what I needed to get a trendy fashion look.
I photographed Molly wearing three different outfits, and they were two lingerie outfits, two bikinis, and a red thong bodysuit. I also took some shots of Molly in black jean shorts with a red hat that looked hot.
Here is one shot from Molly's shoot:
For all of my image exposure settings, I used the Sekonic L- 478 D- U and an expo disc to set my custom white balance.
The rest of Molly's images are inside the member's area for you to see. Since this shoot is such a hot and creative session, I don't want to reveal too much preliminarily. There are a total of sixty image collections of Molly posing in five different outfits.