Top Model Chloe Ann Lloyd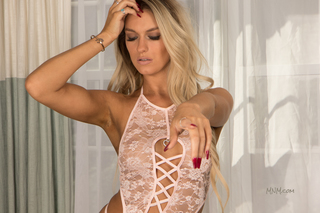 Top model Chloe Ann Lloyd did a fabulous job modeling in fashion and lingerie for my studio lighting photo shoot. Chloe's image collections turned out fantastic. Creating a great portrait is so easy when you work with talented models like Chloe, who keep themselves fit and tone.
Top model Chloe Ann Lloyd
Luckily I was able to have been able to book a few captivating models so far this year. These few models I photographed all did terrific modeling, and they turned out marvelous photos for my work. I must add Chloe into the few elites I had the opportunity to photograph sofar in 2019. I'm keeping my fingers crossed to find at least two more, good charismatic models before the year ends.
The setup
In Chloe's first set, she wore a pink lingerie set and posed in front of the hotel living room area. The sheer white curtains let the sun in, and my honey badger flash heads did the rest for me. I set the exposure with my Sekonic light meter, and the custom white balance I set with an expo disc.
My light meter
I captured excellently, exposed portraits with Chloe because I used my trusty Sekonic light master pro L-478D-U meter. I also took good shots because Chloe is a brilliant model. Most importantly, to be able to get a smooth, silky image of a gorgeous model, she must have a great complexion, or her image won't turn out good. A model who has lousy skin tones will need a lot of editing to correct the problems. I try to avoid the post-production process all of the time. In Chloe's case, I had no post-editing at all and was pleased with her results.
Here is a picture from Chloe's shoot: