Luna The Noodle Escapes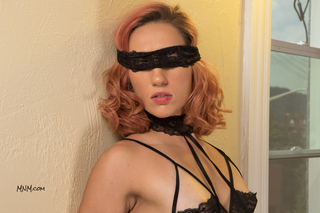 Luna The Noodle escapes is a site to see let me tell you she is a well-built model. For this update,  she wears a black g- string set with a matching blindfold. Luna's second shoot is a sizzling collection of fifty-three images and a quality HD video. This popular contortionist is fantastic when it comes to unique poses. She can do that little extra to show more and make the picture a fabulous shot.
Luna the Noodle blindfolded
The setup for Luna in lights out was a newly remodeled home that has a neat, freshly painted second-floor bedroom. Everything blended perfectly, especially Luna's red hair, tan skin, and the black g string. When Luna posed with the blindfold on, it made her a little more of a fetish and glamour combination model. I think the outfit wet thoroughly with her and everything different than what it usually is.
The contortionist poses that Luna does in the fetish lingerie attire are hot and are a sight for sore eyes. All of the images and video turned out amazing. Luna, the Noodle, looks super and did a marvelous job acting and posing with the blindfold.
Luna is a lot of fun
It was a fun and exciting shoot with Luna, especially her posing so freely with such a small g- string and blindfold. At the start of her session, Luna was lights out, and couldn't see the camera, but the camera was watching her!
Here is a picture from Luna's second shoot and a short clip:
See More Premium Content….
MNM's Best are my top model photo shoots that include never seen before pictures and videos of the best photo shoots. All of the MNM Best content is included for paid members, upgrade now for never seen before pictures and videos of my photo shoots.